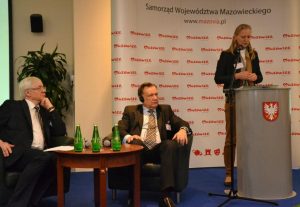 The 10th Congress of the European Chemical Regions, titled "Facing the changes – new challenges for the competitiveness of the European chemical industry", was hosted by ECRN member Mazovia on 5th-6th December 2012 in Warsaw (Poland).
The Congress sought to provide a platform for decision-makers and stakeholders to come together and present good practices on supporting or enhancing the competitiveness of the European chemical industry in times of changes and challenges. It also served as a chance to underline the regional priorities and practical aspects of policy implementation, thus providing also contributions to the EU discussions in the context of the Europe 2020 strategy.
On the first day, the views from regional, national and the EU-level on competitiveness and future of the chemical industry were presented, followed by a discussion on possible future activities in the context of Europe 2020 strategy. On the second day, workshops on "Innovation and Clusters", "Resource and Energy Efficiency, "Chemical Logistics", and "Skills Development and Skills Gaps in the Chemical Industry" dwelled deeper in these key topics and presented concrete practical examples of innovative actions and useful tools and instruments from the regions. For more details, please see the agenda. See also the website of Mazovia here.