On 20 -21 February 2020, the region of Flanders in Belgium and the European Chemical Regions Network (ECRN) organised a two days workshop looking at ways to better integrate primary production into biobased value chains, within the framework of POWER4BIO project.
The event brought together representatives from the agriculture and rural development sectors, the chemical and biobased industry and the EU institutions to discuss how agro-industrial cooperation can unlock bioeconomy potential in European regions.
As food and biobased product innovations require structural change in the value chains, new forms of collaboration between farmers and industry are needed. However, setting up new agro-industrial cooperation is a challenge for many regions in Europe and it demands new policy instruments and investments.
Keeping this in mind, the workshop looked at:
concrete case-studies and new developments of agro-industrial value chains that rely on innovative biobased solutions
the role of public policy and promote successful policy instruments aiming to make new biobased value chains possible in practice
common technical, economic and regulatory barriers for the creation of new agroindustrial partnerships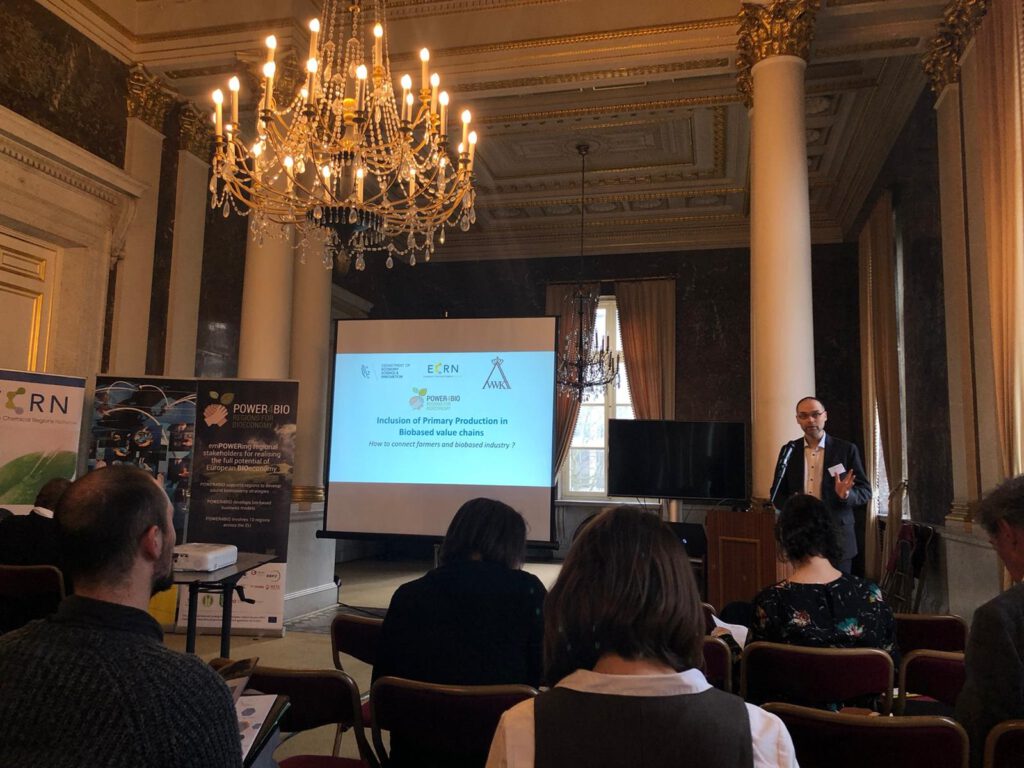 Following the welcoming speech by the Flemish Government, the workshop kicked off with a session presenting the latest developments, collaboration initiatives and R&D structures supporting agriculture and biobased development in Flanders. As Flemish research and innovation institutions are actively investigating new technologies to make the circular bioeconomy a reality, research and industry representatives presented their latest initiatives to promote join agriculture and biobased solutions.
The first session was followed by a presentation of case studies of successful structural approaches creating new collaborations between primary production and innovative biobased value chains. In this session, examples of new partnerships between farmers and bioindustry that could foster integration between the two industries were presented.
However, in order to accelerate the integration between primary production and bio-industry, good policies are essential to speed up the process and support the action of industrial actors. The third session of the workshop looked at policies at regional, national and European level that outline instruments to stimulate the structural collaboration between primary production and industry.
The first day of the event was closed by a panel discussion on the potential role of regions in the development of rural bioeconomies, and the opportunities for collaboration with European policies. The panel empathized the importance of harmonized European and regional policies in order to unlock bioeconomy at local level.
Finally, the second day was dedicated to field visit to Belgian companies committed to incorporate sustainability into their business and operations: Arcelor Mittal, integrated steel and mining company, Bio Base Europe Pilot Plant, a service provider for process development, scale-up and custom manufacturing of biobased products and processes, and the North Sea Port.