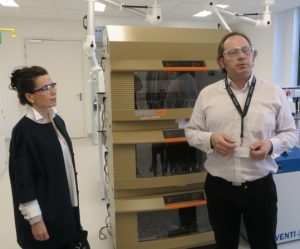 In line with her attempt to better understand regional challenges and best practices, the new director of ECRN participated in a visit to Brightlands Chemelot Campus and the Aachen Maastricht Institute for Biobased Materials (AMIBM), organized in cooperation with the regional government of Province Limburg, the Netherlands, on 30th March. Among the invited guests were also Mrs Katrin Budde, member of the Committee of the Regions (CoR), and rapporteur on CoR's Position Paper on Bioeconomy; as well as Mr Thomas Wobben, Director for Legislative Works in CoR. The field visit was combined with a dinner hosted by Minister Twan Beurskens responsible for Economy and Knowledge infrastructure in Province Limburg.
Province of Limburg represents an inspiring case for regional development and competitiveness based on a cluster approach supporting triple-helix cooperation between the regional government, knowledge institutions, start-ups and corporations. Among the success factors that drive the world-class position of Brightlands Chemelot Campus, located in the Province, is its open innovation ecosystem, including talent development (education near industry) and development of campus community of scientists, students, entrepreneurs, facility managers, etc. This environment is supported by state-of-the-art facilities such as laboratories, pilot plants, conferences centers, as well as business support service.
The Province of Limburg has been one of the partners providing funding for SMEs and innovations in the campus, for example through the Limburg Innovation Fund and the initiative LimburgMakers where the regional government partnered with the Chamber of Commerce, and the Limburg Development and Investment Company (LIOF). The campus also receives contribution from the European Regional Development Fund.