Upon the kind invitation of Ústí nad Labem Region, ECRN Director Renatka Krcova visited the region in March and attended the Ústí Chemical Forum 2018. The event was under the patronage of several Public Authorities, bringing together the knowledge of representatives from Universities and Chemical Industry stakeholders, attracting hundreds participants for an interactive exchange.
The purpose of the Forum was to ensure and further unlock the undeniable Ústí Chemical Industry potential for growth, through the development of its education system and new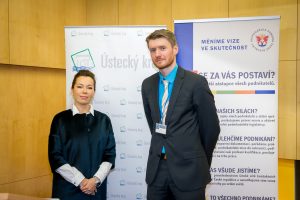 chemical processes & technologies. In his opening speech Deputy Governor Martin Klika stressed that the chemical industry, alongside coal mining and energy, has a traditional and important role in the industrial profile of Ústí nad Labem. This was showcased by the presence of major sector players – Unipetrol, the Association for Chemical and metallurgical production, Glanzstoff Bohemia, Mondi Štětí and Glencore Agricukture Czech, a company with history in Ústí nad Labem since 1848.
The Ústí Chemical Forum 2018 also highlighted the region's potential for developing new technologies. Presenters from Spolchemie, discussed its Green chemistry, based on the use of renewable sources of raw materials. The Forum also featured presentations on nanotechnology and nanomaterials, on the integration of hydrogen mobility, on the non-energy use of coal and on the possibilities of processing lithium raw materials.
Ústí nad Labem demonstrated its commitment to creating a better environment for chemical companies by engaging in logistics projects in the chemical industry, e.g. CHEMLOG and ChemMultimodal projects. Furthermore, in order to secure the future of the chemical sector, the region has cooperated extensively with the University of J. E. Purkyně in preparing chemical industry professionals and experts. Within the framework of an ongoing project, Ústí is investing more than €1.5 million in the construction of 10 chemistry laboratories and 5 specialised chemistry classrooms in high schools.
ECRN welcomes the commitment of Ústí nad Labem to develop new technologies, human capital and infrastructure in its chemical sector. ECRN aims to support the region in its efforts by facilitating interregional exchanges of experience, by assisting in the development and execution of projects, and by representing the region's interests on a European level.
All event presentations are available here.