The network is growing! ECRN, the European Chemical Regions Network, is pleased to announce that the region of South-Holland in the Netherlands has become its latest member.
Being part of the network opens new opportunities for the Dutch region to collaborate closely with many other chemical regions, to gather forces in projects and exchange best practices in policy and industry applications. The network will also provide new possibilities for the region to reach out to the EU institutions and express its position with a stronger voice.
Facts and figures
South Holland is a province situated on the North Sea in the west of the Netherlands. It counts over 3.6 million inhabitants, making it one of the most populous areas in the world. South Holland is also one of the most industrialised areas in the world. Main sector of economic activity is, among others, the  
Petrochemical industry, 
particularly near Rotterdam neighbourhood Pernis. Combined with the Port of Rotterdam, strong infrastructure, great universities and well-educated labour force have attracted many of the world's largest chemical companies, such as
Shell
headquartered in The Hague,
BP
or
Neste
.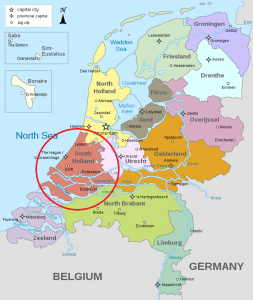 Matching regional and network priorities
The transition to a circular economy is one of the province's priorities as well as becoming energy-neutral by 2050. South Holland is changing from a classic harbour area into a knowledge intensive area and has a strong innovation potential because of its high business activity. Successful investments have been made in an integral approach to accelerate the transition from a linear, fossil economy to a bio-economy, and ultimately to a resource efficient circular economy. Moreover, the province's ambitions also concern the conservation of the energy supply, with the commitment to provide a substantial contribution to the production at national level of 14% renewable energy in 2020 and 16% in 2023.
The province's political priorities align with the thematic interests and priorities of ECRN, which has determined the successful adhesion of the region to the network.
ECRN and all its member regions are looking forward to collaborating with the region and integrating it in the network's activities!
You can find more information about the Province on their website.