ECRN is glad to announce that on the 25th of October, during the ECRN Extraordinary General Assembly,  the foundation of the ECRN entity under Belgian Law was established! This has opened a new page in the history of ECRN and is an important milestone for its future development.
ECRN  would like to express its gratitude to all founding members, which were members of the German ECRN entity, for making this step possible and for supporting ECRN's goals and progress. The network recommits to its central objective to promote regional aspects of the chemical industry and chemical policy in Europe.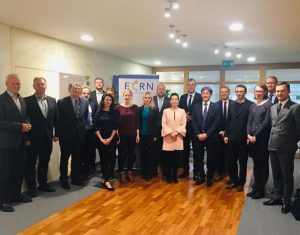 ECRN Executive Board elections for the Belgian ECRN asbl entity took place the same day. The region of Lombardy will retain the leadership of the network by taking over the Presidency.  President Sala (Lombardy), Vice Presidents Karl Uwe-Bütof (Nort-Rhine Westphalia) and Joost van den Akker (Limburg), Treasurer Collet (Wallonia) and Executive Board Member Waijda (Mazovia) were re-elected by the member regions. The Executive Board of ECRN is very glad by the involvement of the Usti region, which enlarged the Executive Board by a new member, the Deputy Governor for Transport and Road Economy of Ùsti, Mr. Jaroslav Komínek.
Taking this new step into the future, ECRN  would like to invite new stakeholders along to participate in the network and engage in its activities. This new chapter in the ECRN's development brings exciting new opportunities such as the affiliation membership! Legal entities such as clusters, corporations, companies, or foundations, that supports the objectives of the ECRN may address an application for affiliation.
If you are interested to be involved in a knowledge-packed platform addressing a wide range of challenges that the chemical industry faces, establishing interregional networks facilitating the mobilization of all competitiveness factors of the European chemical industry and contributing to the development of competitive and sustainable value chains based on chemistry as an axis of smart specialization of the European Chemical Regions, we would love to hear from you!