ECRN successfully held its annual General Assembly on 27th June, hosted in the Bavarian Representation to the EU, in the heart of Brussels. The Assembly's agenda was filled with important discussions and decisions.  Regional representatives received the annual reports of the Executive Board and the Secretariat and discussed the annual budget and the Action Plan for the second half of 2018. Incoming activities include the final conference of the second phase of ESCSS, which ECRN will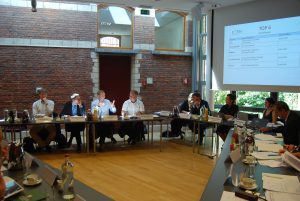 host. ECRN also plans on organising a Parliamentary Evening on Industrial Policy and MFF, as well as a stakeholder event on the topic of Plastics.
ECRN Executive Board elections took place, and President Sala (Lombardy), ECRN Treasurer Collet (Wallonia) and Executive Board Member Waijda (Mazovia) were re-elected by member regions. The Executive Board was also joined by the new Regional Minister of Economy and Knowledge Infrastructure of Limburg, Mr. Van den Akker, who replaces Mr Beurskens as the ECRN Vice-President.
Members discussed the new ECRN statues and took important steps towards the establishment of the new ECRN legal entity under Belgian law. ECRN Secretariat also presented the successful proposal for establishing a Thematic Area on Chemicals within the Smart Specialisation Platform for Industrial Modernisation and the Power4Bio H2020 project recently approved by the Commission, where regions will collectively develop and advance regional strategies towards building their bioeconomies.