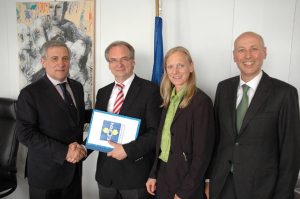 The outgoing ECRN President, Prime Minister Dr. Haseloff and the newly elected ECRN President, Prof. Birgitta Wolff as well as the ECRN Vice President Alberto Cavalli met with the Vice President of the European Commission in charge of Industry, Antonio Tajani to discuss the future strategic financing of the innovation and research policy of the European Union.
The ECRN representatives took the opportunity to hand over the ECRN Joint Position on the Green Paper consultation "Towards a Common Strategic Framework for EU Research and Innovation Funding" which was adopted by the ECRN Presidium earlier that day.
Vice President Tajani reiterated the important role of the ECRN for the European Commission as a regional stakeholder and he confirmed his interest in a close co-operation with the network. The ECRN was recently invited by the Directorate General for Industry to take part in an "Analysis of policies in chemical regions to support competitiveness in the chemical industry" which will be carried out in the months to come.